PharmaWorx
Manage meaningful and informed relationships for success in Pharmaceutical Product Marketing
PharmaWorx is a cross-platform tablet based closed loop marketing (CLM) solution for the Pharmaceutical industry. PharmaWorx offers an easy-to-use, and full-featured solution that offers complete customer universe and call management, eDetailing, electronic signature capture, and product marketing features optimized for pharmaceutical sales reps.
Forward looking pharmaceutical organizations, who are ready to take advantage of digital solutions for sales and marketing, can leverage the power of PharmaWorx to establish or maintain a presence in today's highly competitive marketplace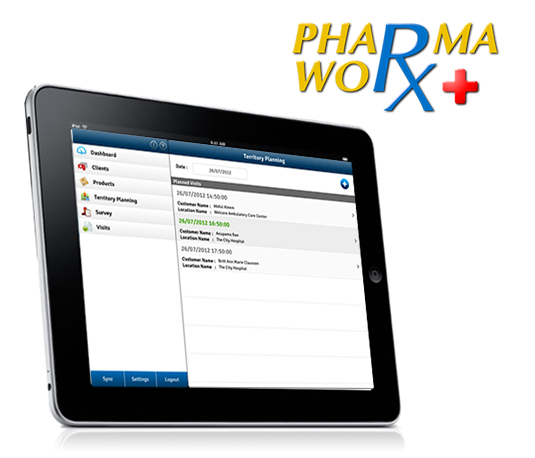 PharmaWorx includes features for:
Time based call planning
Customer Detail management
Products and Samples Management
eDetailing
Presentation of Images, Videos and visual aids
Tasks Management
Electronic Signature Capture
Customer Surveys
Real-time KPIs for Sales and Marketing analysis
PharmaWorx helps to close the loop between marketing activities and customer feedback by offering real-time data capture and customer responsiveness, thus enhancing the overall relationship with the customer.
Sales Reps that use PharmaWorx can make a planned or informal visit to a doctor's office, instantly switch on their iPad or Android tablet and present product information to the doctor along with completing previously recorded tasks or capturing notes for the current visit, as well as drop off samples. If a doctor is interested in a particular image, video or brochure, the sales rep can mail the content directly from the iPad to the doctor's email while still at the doctor's office.

Benefits
Improved Visit Planning and Followup

Better Market Coverage

Enhanced and interactive Customer Relationships
Instant access to latest content for eDetailing
Improved execution of marketing campaigns
Increased tracking of effective marketing presentations
Reduction of time to report on field activities
Better use of sales reps field time
Engaging communication