SiteWorx
One of the major problems faced by construction companies today in the use of information technology, is the fact that production (construction) activity is dispersed and site locations frequently change.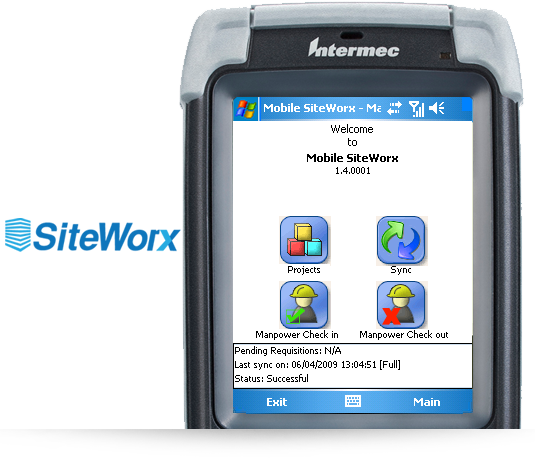 SiteWorx - Labor Requisition
In order to provide effective IT support and solutions to these dispersed sites, connectivity and infrastructure has to be supplied at the site office, yet it is still out of the hands of the people which are moving about at the construction site.
With the advent of mobile computing and powerful mobile computers, it has become easier to equip your mobile site engineers with tools to allow them to effectively manage multiple constructions projects at any given time.
SiteWorx is a mobile client-server application that enhances the productivity of Supervisors, Foremen, Construction Managers by assisting them in recording details about daily labor and material usage, equipment usage, timesheets, and associated information.
SiteWorx is designed to empower your mobile workforce to maintain records on multiple projects at different sites and, with specific details about each project location.
Supervisors can keep track of labor used on each project along with on hours worked and tasks undertaken.
A simple interface allows the tracking of equipment used on site and requests for material on an as required basis. This lets you better manage your in-hand inventory and JIT (Just-in-Time) purchasing requirements.
In addition, material used and client instructions can be entered easily into the system.
Data entered into the mobile computers can be synchronized in one of several ways to update the enterprise system, thus providing up-to-date information for proper accounting and inventory management.
There are a number of key benefits arising from capturing information recorded on SiteWorx


Benefits
Eliminate of paperwork
Measured increase in productivity and efficiency
Reduced of errors due to data entries inaccuracies
Improved accuracy and consistency of site records
Reduction in time spent in maintain site information
Proper record of usage of hired and internal equipment
Reconciliation of Supplier invoices against delivery dockets
Better management of materials usage on site
Analysis of Labor hours for historical reporting
Better management of employee timesheets
Analysis of weather and job related delays